Skip to Content
Pressure Washing Services in Stewartstown, PA
We Specialize In Exterior Cleaning Services
Looking for high-quality pressure washing services in Stewartstown, PA? Look no further than A Clear View Window Cleaning & Pressure Washing. Our team of trained professionals has years of experience providing top-notch house washing services to homes and businesses in Stewartstown and the surrounding areas. Our state-of-the-art equipment and eco-friendly cleaning solutions can remove even the toughest dirt, grime, and stains from your property's exterior surfaces, leaving them looking clean and refreshed.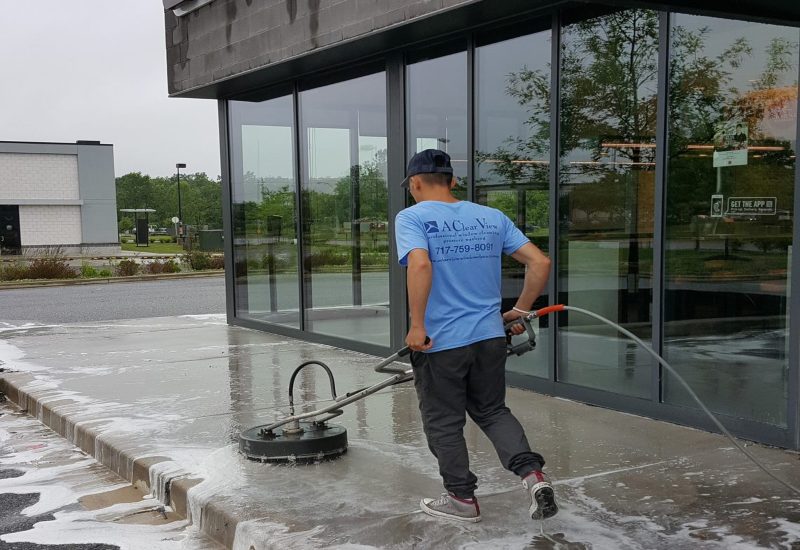 What Is Pressure Washing?
Pressure washing, also known as power washing, is a cleaning method that uses water spray to remove dirt, grime, and other buildup from various surfaces. The pressure is generated by a motorized pump that pressurizes water in a hose and then sprays it onto the surface being cleaned. The water is typically mixed with a cleaning solution to enhance its cleaning power. Pressure washing can clean a wide range of surfaces, including sidewalks, driveways, decks, patios, siding, roofs, and more. We often utilize a 'soft wash' system, which is less damaging to property and material than high pressure washing.
Our Pressure Washing Services
A Clear View is proud to offer our valued customers a wide range of power washing services. Our experienced technicians use high-quality equipment and cleaning agents to ensure your surfaces are thoroughly cleaned without causing any damage. We specialize in cleaning various surfaces, such as concrete sidewalks, driveways, decks, and roofs. Our team has the expertise to adjust the pressure and temperature settings depending on the surface being cleaned to provide optimal results.
Benefits of Our Pressure Washing Services
Choosing A Clear View Window Cleaning & Pressure Washing's pressure house washing services come with a variety of benefits beyond just a clean surface. Our advanced equipment and cleaning agents provide a deep, thorough clean that can improve the curb appeal of your property and increase its overall value. In addition, pressure washing can remove harmful pollutants, such as mold and algae, which can be a health hazard to you and your family. With our experienced and skilled team, you can trust that your property will be in good hands, and we'll work hard to ensure you're completely satisfied with our services.
The Importance of Hiring a Professional
Pressure washing can effectively clean and revitalize your property, but it also comes with risks and dangers. Attempting pressure washing on your own can lead to personal injury or property damage. It is essential to hire a professional for safety and effectiveness. Our experienced and licensed technicians have the expertise and high-quality equipment to perform pressure washing safely and effectively. By choosing A Clear View, you can have peace of mind knowing that your property is in good hands and avoid the risks associated with DIY pressure washing.
Frequently Asked Questions
The cost of pressure washing varies depending on the size and scope of the project. A Clear View provides free estimates to ensure customers know the cost upfront.

No, pressure washing is not safe for all surfaces. It can cause damage to delicate surfaces such as wood, stucco, and some types of siding. A Clear View's trained technicians have the expertise to determine which surfaces can be safely pressure washed and which require a gentler approach. Our 'soft wash' may be appropriate for areas where high pressure washing is not indicated.

The frequency of pressure washing depends on a variety of factors, such as the climate and the amount of foot traffic on the property. A Clear View recommends annual pressure washing to maintain the appearance and health of your property. We also offer weekly, bi-weekly, monthly, quarterly, and semi-annual cleanings for various residential and commercial applications.
Contact A Clear View
At A Clear View Window Cleaning & Pressure Washing, we believe a clean property is a happy property. That's why we're dedicated to providing the highest quality power washing services, including our 'soft wash' service, to homes and businesses in Stewartstown and beyond. With our commitment to using only eco-friendly cleaning solutions and our team of highly trained professionals, you can trust us to get the job done right. So if you're ready to give your property the deep clean it deserves, don't wait – contact us to learn more about how we can make your windows shine.
Quality Work and First-Rate Service at an Affordable Price