Skip to Content
Gutter Cleaning Services in Stewartstown, PA
Reliable Gutter Cleaning Services in Stewartstown, PA
Gutter cleaning is an often overlooked home maintenance demand that can result in a cascade of concerns. Fortunately, we have a solution. Protect your home with A Clear View Window Cleaning and our trusted gutter cleaning service. Discover the benefits and convenience of leaving your roof gutter cleaning to our professionals in Stewartstown, PA.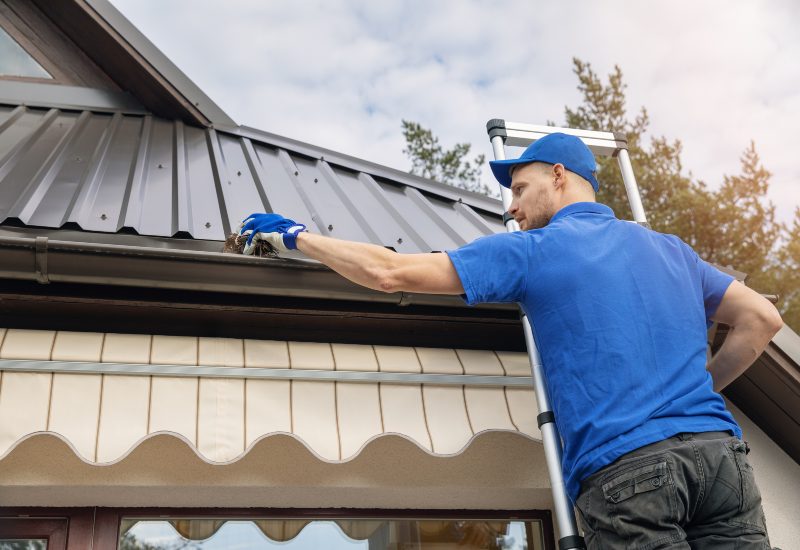 Secure High-Performance Gutters
Many homeowners view gutter cleaning as a luxury. In contrast, it's a vital component that must be included in your exterior home maintenance regimen. Your gutters serve to reroute rainwater away from your home's foundation. As such, maintaining clean gutters is essential to facilitate water flow that preserves the structural integrity of your property.
Essential Reasons to Clean Your Gutters
Neglecting your home's vital gutter cleaning service demands puts you at risk of structural damage and costly repairs. When water cannot pass through clogged gutters, it will begin escaping wherever it can, leading to leaks, damage, and stress. Fortunately, these issues can be easily combated with A Clear View Window Cleaning's gutter cleaning service.
Combat Water Damage
Water damage is a significant issue that not only leads to costly repairs and replacements but impacts the overall structural integrity of your property. When debris-filled gutters obstruct water, it will search for other ways out. As a result, you may find yourself with rotting wood, peeling paint, mold growth, foundation cracking, and more.
Mitigate Pests
Standing water is a prime habitat for a range of unwanted pests. When water is trapped and stagnant in clogged gutters, mosquitos, termites, and vermin will reach this water source. Stay up-to-date with your gutter cleaning needs to avoid providing a breeding ground for unpleasant guests and maintain your comfort.
Maintain Your Landscape
If you love the look of your perfectly mowed landscape, your gutters should be a leading home maintenance priority. Gutters help direct water away from your lawn. When gutters become blocked, that water can find its way into your landscape, leading to soil damage and erosion that offsets the look and feel of your home.
Prolong Your Roof's Performance
Roofs are one of the most significant investments a homeowner can make. Fortunately, with proper maintenance, they can last for decades. One of the key factors in roof maintenance is regular roof gutter cleaning. You face premature deterioration and costly repairs and replacements without this invaluable service.
Types of Gutter Cleaning
When it comes to gutter cleaning, you have two options: DIY or a professional gutter cleaning service. While gutter cleaning may seem simple in theory, it's imperative to choose the assistance of a professional. Climbing ladders and accessing your roof can be highly hazardous, and without the proper gutter cleaning tools, your efforts may fall short.
When to Pursue Gutter Cleaning Service
Gutter cleaning should be an integral component of your exterior home maintenance regimen. As such, our experts recommend having your gutters services twice annually to promote optimal performance and reliability. However, more frequent cleanings may be required depending on the type of gutters and surrounding property, such as homes with many large trees.
Benefits of Our Gutter Cleaning Service
Relying on A Clear View Window Cleaning is the key to exceptional gutters. The benefits of our professional gutter cleaning service include:
Mitigate property damage
Avoid costly repairs and premature replacements
Alleviate the risk of accidents
Experience prompt and efficient service
Extend the lifespan and function of your gutters
Secure total peace of mind
Complete Gutter Cleaning for Your Stewartstown, PA Home
Choose a full-stack gutter cleaning service for your Stewartstown, PA home with A Clear View Window Cleaning. Combining time-honored expertise and professional-grade gutter cleaning tools, our professionals have the skill and know-how to get the job done right. Rely on us for prompt and effective service that brings value to your home.
Schedule Your Professional Gutter Cleaning Service Today
Extend the longevity of your roof, mitigate costly water damage, and achieve total peace of mind with A Clear View Window Cleaning's dedicated gutter cleaning service. Choose the best for your Stewartstown, PA home with our trusted team. Contact our friendly experts today to schedule your professional gutter cleaning service.
Quality Work and First-Rate Service at an Affordable Price