Skip to Content
House Pressure Washing Service in Baltimore, MD
The Best House Pressure Washing Service in Baltimore, MD
Discover the transformative power of a pristine home exterior with A Clear View Window Cleaning's exceptional house pressure washing services in Baltimore, MD. As a trusted name in the industry, we specialize in revitalizing your property, ensuring it exudes beauty and curb appeal. Our team of skilled technicians employs state-of-the-art techniques and equipment to remove dirt, grime, and stains, leaving your home looking brand new. We guarantee your satisfaction with our commitment to quality workmanship and unparalleled customer service. Experience the difference today and take the first step towards a spotless, vibrant home.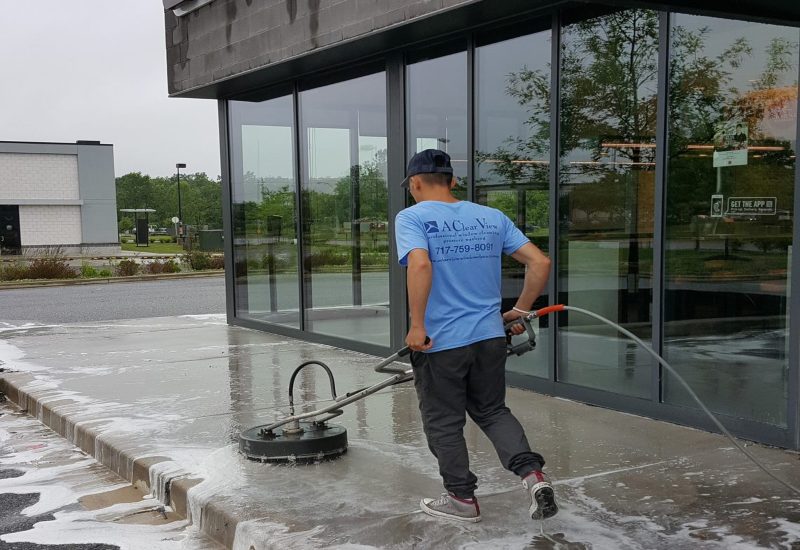 Techniques for Washing Your Home
At A Clear View Window Cleaning, we utilize advanced techniques to deliver exceptional home washing results. Our expert team is skilled in-house pressure washing methods. We harness the power of specialized equipment to thoroughly clean and rejuvenate the exterior of your home, eliminating tough stains, dirt, and grime. Our pressure washing technique involves using controlled water pressure to remove debris and restore the original beauty of surfaces such as siding, decks, and driveways. Our precise and efficient techniques ensure a thorough and long-lasting clean for your home.
How Often Does Your House Need Washing?
The frequency of house washing depends on various factors such as climate, location, and surrounding environment. Generally, it is recommended to have your house washed at least once a year to maintain its appearance and protect it from dirt buildup, mildew, and pollutants. However, certain conditions may require more frequent washing, such as living near a construction site or in an area with high pollution levels. Our experts at A Clear View Window Cleaning can assess your specific needs and provide tailored recommendations for the ideal frequency of house washing to keep your home looking its best year-round.
Should You Wash the Exterior of Your House?
Washing the exterior of your house is an essential maintenance task that offers numerous benefits. Over time, dirt, grime, mold, and pollutants can accumulate on surfaces, impacting the appearance of your home and potentially causing damage. Regularly washing the exterior helps to remove these contaminants, restoring the beauty of your house and preserving its value. Additionally, washing can prevent the growth of mold and mildew, which can lead to health issues and structural damage. By investing in professional exterior house washing services from A Clear View Window Cleaning, you can maintain a clean, attractive, and well-maintained home.
The Benefits of Hiring a Soft Washing Service
Hiring a soft washing service offers a range of benefits for your property. Soft washing is a gentle and effective cleaning method that utilizes low-pressure water and specialized detergents to remove dirt, algae, mildew, and other contaminants from surfaces. The benefits of soft washing include preserving the integrity of delicate materials like siding, roofs, and painted surfaces, as it avoids the potential damage that high-pressure washing can cause. Soft washing also ensures a thorough and even clean, reaching into crevices and pores to eliminate hidden pollutants. Additionally, this method provides longer-lasting results by treating the root cause of stains and growth, resulting in a cleaner and healthier environment. Trust A Clear View Window Cleaning's professional soft washing service to enhance the appearance and longevity of your property.
Why Choose Us for House Washing Services
When choosing one of the many house washing companies, there are compelling reasons to select A Clear View Window Cleaning. Our expertise and commitment to excellence set us apart. With years of experience, our skilled technicians utilize advanced techniques and top-quality equipment to deliver exceptional results. We prioritize customer satisfaction and take pride in providing unparalleled service, building strong relationships, and exceeding expectations. Our dedication to professionalism, reliability, and attention to detail ensures that your home receives the care and attention it deserves. Choose us as your house washing business and experience the difference in the cleanliness, beauty, and longevity of your property.
Contact a Clear View Window Cleaning Today
Don't wait any longer to experience the transformative power of house power washing from A Clear View Window Cleaning. Contact us today for a free estimate, and let us give your home or business a fresh perspective. Trust our services for all your cleaning needs and enjoy a clear view that will leave you impressed.
Quality Work and First-Rate Service at an Affordable Price