Skip to Content
Residential Window Cleaning Services in Stewartstown, PA
Expert Residential Window Cleaners
When was the last time you had your home's windows professionally cleaned? If you're like most homeowners, it's probably been a while since you have done any window washing. But with A Clear View Window Cleaning & Pressure Washing, you no longer have to settle for grimy, streaky windows. Our residential window cleaning services in Stewartstown, PA, are designed to give your windows a crystal-clear finish, enhancing your home's curb appeal and allowing more natural light to filter into your living spaces.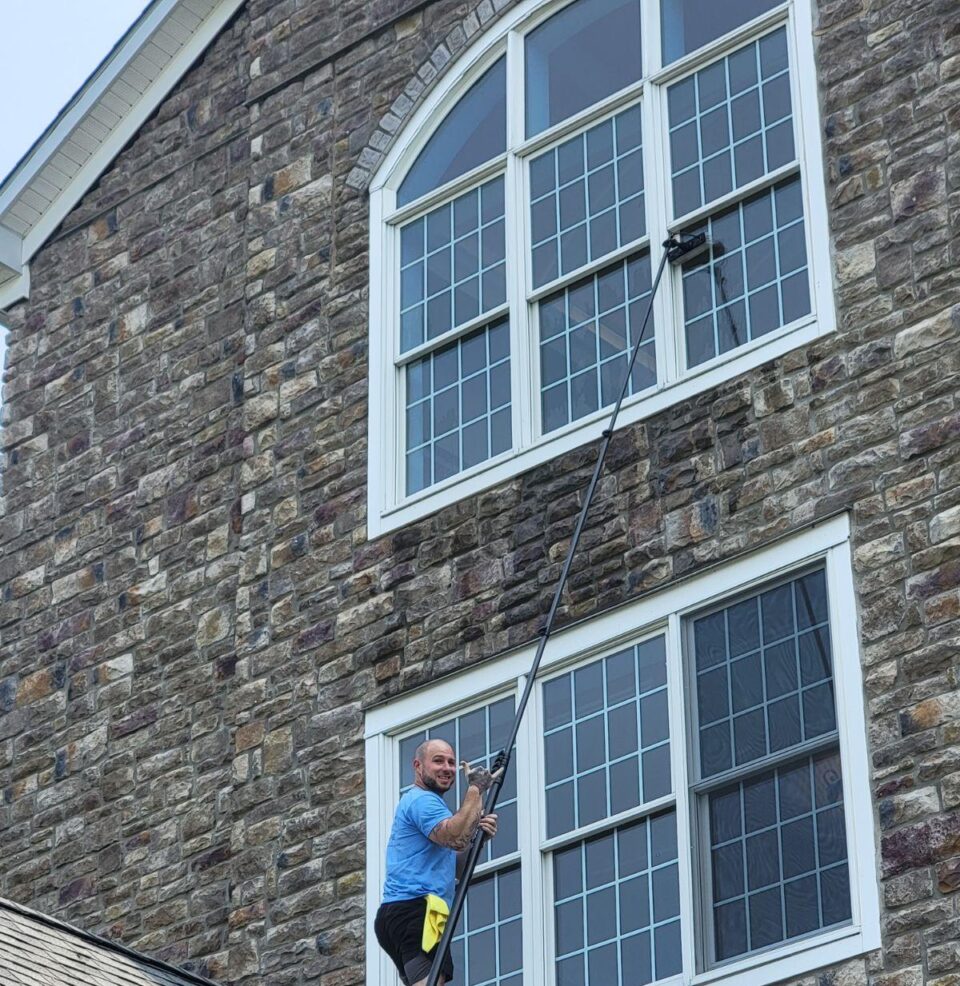 What Is Residential Window Cleaning?
Residential window cleaning refers to the process of cleaning the windows of a home or apartment building, which involves using specialized tools and cleaning solutions to remove dirt, grime, and other types of debris from the windows. The process typically involves using a squeegee and a cleaning solution to remove any dirt or debris from the windows. We also use other techniques and materials such as purified water, depending on the application. The different types of windows that can benefit from residential window cleaning include the following:
Single and Double-pane Windows – The most common types, which are typically made of either glass or acrylic.
Storm Windows – Installed on the exterior of single or double-pane windows to provide extra protection against the elements, can also be cleaned.
French Pane Windows – Features multiple small panes of glass separated by muntins and can also be cleaned using specialized techniques.
Our Residential Window Cleaning Services
At A Clear View, we offer comprehensive residential window cleaning services to leave your windows crystal clear and streak-free. Our highly trained technicians use state-of-the-art equipment and top-quality cleaning agents to ensure that every window in your home is spotless. We can clean a variety of window types, including single and double pane, storm, and French pane windows. Our team takes great care to protect your property during the cleaning process, and we always leave your home in the same condition as we found it.
Benefits of Our Residential Window Cleaning Services
Choosing A Clear View Window Cleaning & Pressure Washing for your residential window cleaning needs has many benefits. Not only will your windows look cleaner and brighter, but regular cleaning can also improve the indoor air quality of your home. Removing dirt, grime, and other pollutants from your windows can improve their lifespan and prevent damage. Our team uses only high-quality equipment and cleaning agents to ensure the best results for your home.
The Importance of Hiring a Professional
Attempting window cleaning on your own can be a risky and dangerous task, especially for multistory homes. Falling from a ladder or damaging the windows can cause serious injury or costly repairs. Hiring a professional window cleaning company like A Clear View is important to ensure safety and effectiveness. Our experienced and licensed technicians use the proper equipment and techniques to safely and efficiently clean your windows without any damage.
Frequently Asked Questions
The cost of our services varies depending on the size and number of windows, as well as any additional services requested. We offer free estimates so you know upfront what the cost will be.

While window cleaning may seem simple, it can be dangerous if not performed properly. Our team is trained to safely and effectively clean windows, and we use specialized equipment to ensure the safety of our technicians and your property.

The frequency of cleaning depends on various factors, such as the location of your home, weather conditions, and personal preferences. Generally, we recommend scheduling cleaning services at least twice a year.
Contact A Clear View
Investing in professional residential window cleaning services can significantly improve the look and feel of your home, increase its curb appeal, and even contribute to its overall value. At A Clear View Window Cleaning & Pressure Washing, we are dedicated to providing you with top-quality residential window cleaning services in Stewartstown, PA, that will leave your windows looking spotless and clear. Our experienced technicians use state-of-the-art equipment and techniques to ensure that every window is thoroughly cleaned to your satisfaction. Don't let dirty windows diminish the beauty of your home, contact us to schedule your residential window cleaning appointment and enjoy a clearer view.
Quality Work and First-Rate Service at an Affordable Price